Madras man gets 20 years in killing, possibly of wrong person
By Lauren Dake / The Bulletin 
Published: December 14, 2007
Senen Ortiz-Huerta, 42, admitted to shooting 19-year-old Jesus Gonzales-Esquivel in 2006, though prosecutors believe he thought the victim was someone else.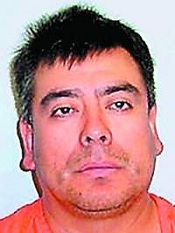 MADRAS — A Madras man who admitted killing a 19-year-old in what may have been a case of mistaken identity was sentenced to 20 years in prison Thursday.
Senen Ortiz-Huerta, 42, sat shackled and wearing a bulletproof vest, as the family of Jesus Gonzales-Esquivel told the judge how the murder had destroyed their family.
"He took my nephew's life, and that tore apart my soul," said the victim's aunt, Elodia Tapia, whose Spanish was translated by an interpreter.
Ortiz-Huerta shot Gonzales-Esquivel multiple times with a .22-caliber rifle outside of Sonny's Apartments, at the south end of Madras, in May 2006.
After the shooting, Ortiz-Huerta, who had no criminal history, drove south to Klamath Falls. He was later detained and originally charged with murder. On Nov. 30, he agreed to plead guilty to first-degree manslaughter and take a 20-year prison sentence.
Family members of both the defendant and victim sat in Jefferson County Circuit Court, surrounded by several sheriff's deputies. Gonzales-Esquivel's family cried and passed around a box of tissues as District Attorney Peter Deuel reviewed the facts for Judge Daniel J. Ahern.
 "Jesus Gonzales-Esquivel was enjoying a rather pleasant spring evening, and his life came to a tragic end very abruptly and suddenly," Deuel said. &##x201c;He died at the age of 19 with the vast majority of his life ahead of him."
Deuel talked about how the case is even more tragic because it is believed that Gonzales-Esquivel was not the intended victim. He described a scene in which two men who were at one point during the day riding in Gonzales-Esquivel's car later ended up in an altercation with Ortiz-Huerta's nephew.
"It's the state's understanding … that (Ortiz-Huerta) had a clear intent for violence against those responsible for the assault on his nephew," Deuel said. "Statements further indicate that when he learned who he shot and saw a picture of Jesus Gonzales-Esquivel, he was surprised and did not recognize the person he shot as the individual that he had angered."
When it was the victim's family's turn to speak, his aunt, Tapia, spoke softly and with a shaky voice. The single mom described a young man who helped her watch her children. She asked Ortiz-Huerta why, if he had a problem with her nephew, didn't he come to her, someone he knew, first.
"I never though he (her nephew) would come across someone who would take his life," she said, "much less someone I knew. I was a friend of Mr. Ortiz's family, someone who when I got here seemed like a good person."
Not long after her statement, Tapia fainted. Her family jumped to their feet and Ortiz-Huerta was hurriedly rushed out of the courtroom. After the paramedics arrived and the room settled down, the family's testimony continued. The victim's younger cousin spoke, and then it was time for Angela Lee, the defendant's attorney, to share the other side.
She told the judge that her client took full responsibility for his actions. But she also explained that this was an event that had been building for a long time. She described Ortiz-Huerta as a churchgoing family man. He was someone who was trying to protect his family, she said.
"What Mr. Deuel leaves out is that we got here because Mr. Ortiz and his family were being terrorized and victimized by people, and though they went to law enforcement numerous times, they received no help," Lee said.
Lee described how Ortiz-Huerta's car windows had been smashed. Someone, she said, had burned down their home while his family was inside. After they lost most everything they owned, they were living in a hotel room, and to top it off, she said, Ortiz-Huerta received a threat that his son wouldn't make it home alive that night.
"The truth is my client snapped," Lee said. "He couldn't stand another thing."
Ortiz-Huerta told the court he was sorry.
"I don't feel proud," he said. "Two families were destroyed by this — not just his, but mine, too."
Ahern read the sentencing agreement aloud and addressed Ortiz-Huerta.
"It's clear there are a lot more victims than the one person who lost his life," Ahern said. "He touched a lot of people and meant a lot to family and friends, and they are going to suffer, and your family will also suffer from the loss of your companionship while you are in prison … The price of your action is great. … All I can do is encourage the other people to make good, solid decisions."